Visitors were greatly impressed by the company's practical educational smart board applications, especially the revolutionary 100" K series, and the newly released 90" X series, which are designed for engaging and simultaneously interactive applications.
"ISTE proved yet again to be a vital show for our team as some of our dearest clients attend and new interest emerges from the market!" states Summer Deng, Director of Sales & Brand at METZ Display, "At ISTE, We are proud to showcase our new 90" X series and other interactive displays in assisting educators to overcome the challenges of digital education and any other interactive scenes, and we can't wait to see their amazing applications in coming projects."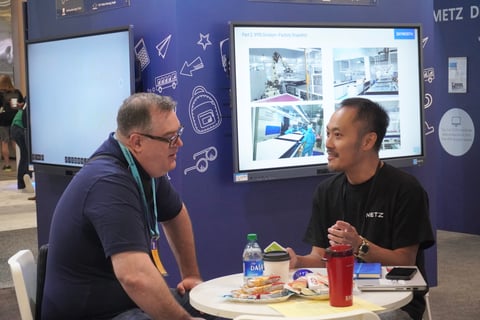 Products Featured at ISTELive 2023:
90" X Series Interactive Display - Break the Barrier of Remote Collaboration
The new all-in-one interactive display 90" X series had its first premiere at the show. The X series inherits SKYWORTH's concept of minimalist design and high-quality control, it promises a superb visual performance, as well as powerful interactive functions. Integrated with 13MP camera and 8 - element mic array at a 178-degree wide - angle, the X series deliver impressive clarity and make sure everyone is heard clearly. Communication on the X series defies distance with the updated audio & visual systems, giving the teleconferences attendees the feeling as if they were joining the session in person.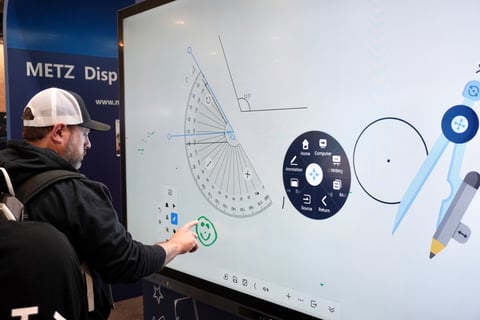 H Series: Featuring superior visual performance, flexible built-in software, and powerful interactive functions. H series transform your classroom into a truly collaborative space, delivering a highly immersive environment for both teachers and students.
In-cell Bonding IFPD: Powered by SKYWORTH exclusive in-cell technology, the product supports more precise touch in faster response and delivers a superior writing experience with 20 points touch and <1mm writing accuracy.
K Series: Ranging in size from 65 inches to 86 inches, and with up to 8G RAM +128G ROM, the new K series was created to enhance efficiency and it deeply suits the interactive classroom application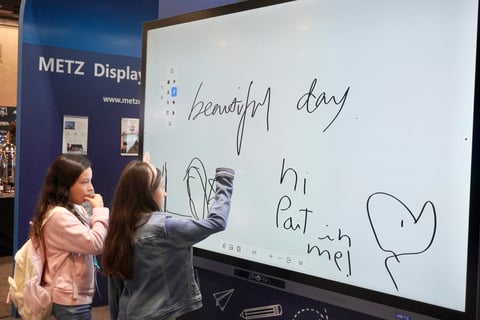 Education Application
For in-class engagement, METZ education solution offers an incredible degree of flexibility, ranging in sizes from 65" to 100". The zero-bonding technology effectively reduces air refraction and parallax for enhanced visual clarity. 178° viewing angle and anti-glare technology promise a better viewing experience whether students are looking at the screen from any direction.
Simply switch the system from Android 11 to Windows, METZ Talent, the METZ exclusively developed built-in teaching software, transforms the display into a powerful and interactive device instantly and making the teaching process easier and inspiring students. Teachers from different subjects can manipulate the tools and software they prefer, which truly captures students' thoughts via 1mm writing height and 8ms responsive time.