As the world's leading AV and systems integration show, ISE has attracted large numbers of visitors and exhibitors each year, and this time METZ brings the brand-new series of interactive flat panel displays to debut at ISE. Packed with the H series displays, digital signage, and in-cell optical bonding IFPD, METZ's booth (#2T500 ) featured a highly interactive environment, embellished by METZ's impressive blue color and the interesting online gaming that drew a great deal of attention from the passersby.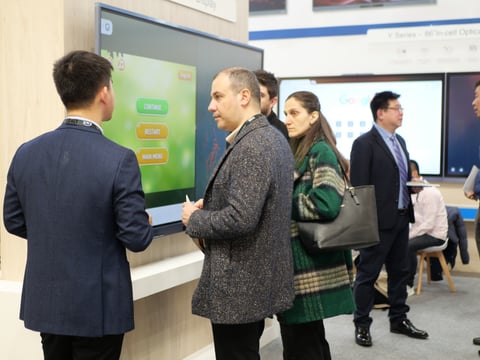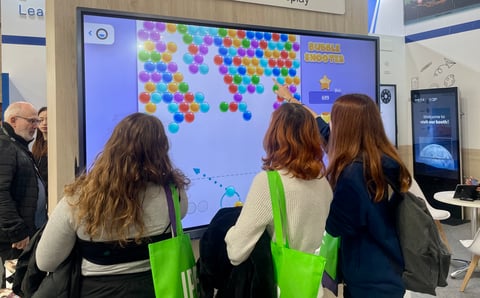 Bringing H series and in-cell optical bonding IFPD practical functions, METZ relevant education & business solutions have successfully attracted visitors as well once they were introduced on the first day of the ISE show. Integrated with practical software & tool, and advanced technology, METZ interactive display solutions help to foster productivity and streamline communications in any learning classrooms, training rooms, conference rooms, and other business scenarios.
Education Application
For in-class engagement, METZ education solution offers an incredible degree of flexibility, ranging in sizes from 65" to 100". The zero-bonding technology effectively reduces air refraction and parallax for enhanced visual clarity. 178° viewing angle and anti-glare technology promise a better viewing experience whether students are looking at the screen from any direction.
Simply switch the system from Android 11 to Windows, METZ Talent, the METZ exclusively developed built-in teaching software, transforms the display into a powerful and interactive device instantly and making the teaching process easier and inspiring students. Teachers from different subjects can manipulate the tools and software they prefer, which truly captures students' thoughts via 1mm writing height and 8ms responsive time.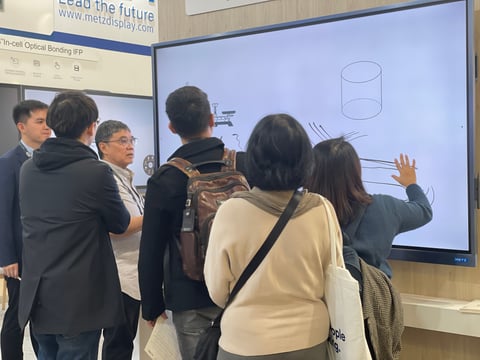 Business Application
METZ business solution provides managers a simple way to create an immersive experience for their staff, whether they are home or office based. Offering easy-to-use controls and settings features, the interactive panels ensures participants and presenters interact naturally, using integrated high-quality speakers and Android & Windows operating system. METZ also offers screen-sharing for up to four windows and low-latency stable mirroring support to ensure seamless collaboration between teams. Meanwhile, the camera and microphone can be accessed via the public type-C if necessary during the remote meeting.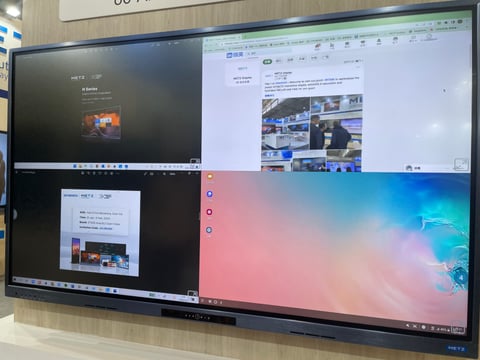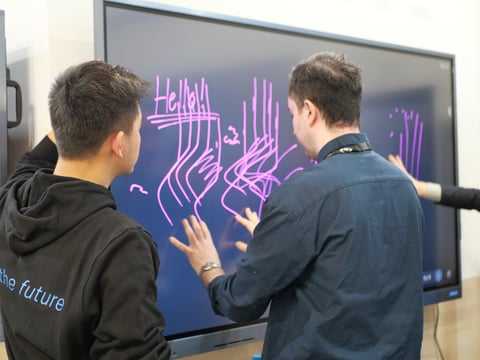 METZ also brings digital signage, which can be applied in banks, hospitals, retail stores, and other service-heavy industries. It helps to add a stimulating element to your business messaging and presents more aesthetically pleasing content via 4K UHD and other engaging features.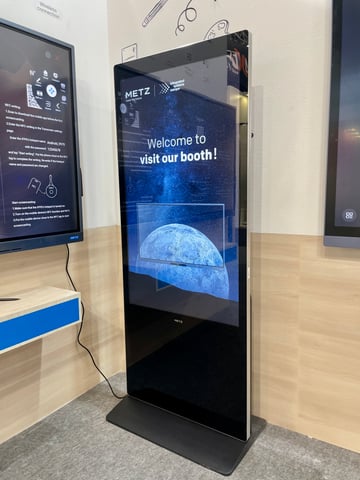 "What a great show! We feel excited to participate in ISE, which is a remarkable chance to connect face-to-face with our friends. We received lots of positive feedback and fully appreciate the interest from attendees." states Summer Deng, Director of Sales & Brand at METZ Display, "We are looking forward to the business collaborations in the coming days."