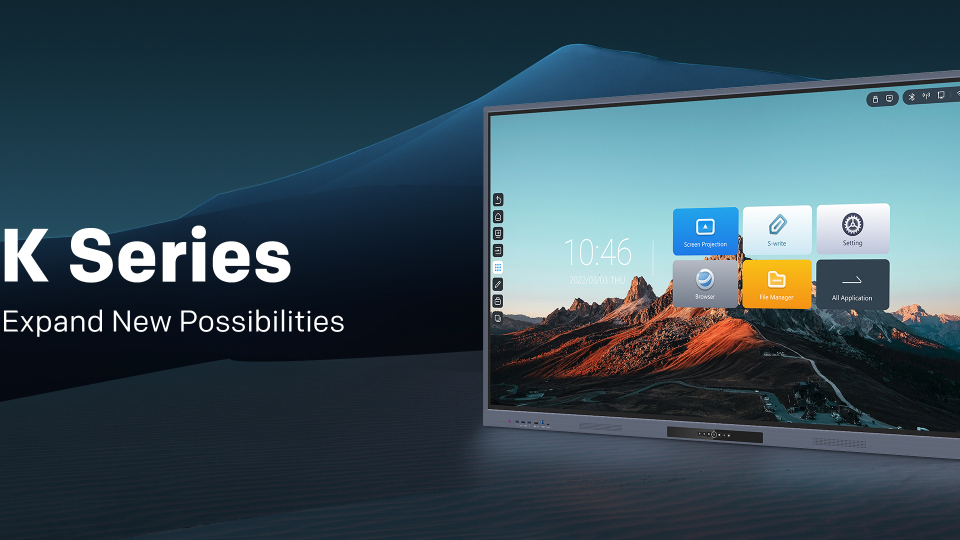 interactive meeting displays
Boost Collaboration and Productivity with Interactive Meeting Displays
Transform your meetings into engaging and interactive experiences with our state-of-the-art interactive meeting displays. These innovative displays combine cutting-edge technology with user-friendly features, allowing you to make the most out of every meeting. Whether you're brainstorming ideas, presenting data, or collaborating on projects, our interactive meeting displays are designed to enhance collaboration and boost productivity.
Seamless Connectivity and Compatibility
Our interactive meeting displays seamlessly integrate with a wide range of devices and software, ensuring that you can connect and collaborate effortlessly. Whether you prefer using Windows, Mac, or Android, our displays are compatible with all major operating systems. With built-in Wi-Fi and Bluetooth capabilities, you can easily share content from your laptop, tablet, or smartphone to the display, eliminating the need for messy cables or adapters.
Intuitive Touchscreen Interface
Experience the convenience of our intuitive touchscreen interface, which allows you to navigate through documents, presentations, and applications with ease. The high-resolution display and responsive touch technology provide a smooth and natural writing experience, making it feel as if you're using pen and paper. Annotate, highlight, and edit content directly on the screen, fostering collaboration and encouraging active participation from all meeting attendees.
Interactive Whiteboard and Annotation Tools
Take your presentations to the next level with our interactive whiteboard and annotation tools. Transform the display into a digital whiteboard, where you can draw, write, and brainstorm ideas in real-time. With a wide range of annotation tools at your disposal, such as pens, highlighters, shapes, and text boxes, you can easily emphasize key points and create visually engaging presentations. Save and share your annotations with a single click, ensuring that everyone has access to the updated information.
Effortless Content Sharing and Collaboration
Collaborate seamlessly with colleagues, clients, and partners by sharing content directly from your device to the interactive meeting display. With screen mirroring and wireless screen sharing capabilities, you can instantly showcase your ideas, documents, and multimedia content without any hassle. Multiple users can connect simultaneously, allowing for real-time collaboration and efficient decision-making. Say goodbye to the traditional method of passing around USB drives or emailing files back and forth.
Powerful Built-in Computing Power
Our interactive meeting displays are not just screens – they are powerful computing devices. With built-in processors and memory, you can run resource-intensive applications and multitask without any lag. Whether you're conducting video conferences, running data analytics software, or editing multimedia content, our displays can handle it all. Experience smooth performance and quick response times, ensuring that your meetings run smoothly and efficiently.
Customizable and Personalized Settings
Personalize your interactive meeting display to suit your preferences and enhance your workflow. Adjust the display settings, such as brightness, contrast, and color temperature, to ensure optimal visibility and comfort. Customize shortcut buttons to access frequently used applications or features instantly. With multi-user profiles, each attendee can have their own personalized settings, ensuring a seamless and personalized experience for everyone.
Advanced Security and Data Protection
Protect your sensitive information and ensure the privacy of your meetings with our advanced security features. Our interactive meeting displays offer secure login options, such as fingerprint recognition or facial recognition, to prevent unauthorized access. Encrypt your data and enable secure network connections to safeguard against data breaches. Rest easy knowing that your confidential information remains protected during every meeting.
Versatile Mounting Options and Sizes
Our interactive meeting displays are available in a variety of sizes, ranging from compact displays for small meeting rooms to large displays for conference rooms and auditoriums. Choose from wall-mounted displays, mobile stands, or tabletop options to suit your space and requirements. With sleek and modern designs, our displays seamlessly blend into any environment, enhancing the aesthetics of your meeting space.
Reliable and Durable Construction
Invest in a long-lasting solution with our reliable and durable interactive meeting displays. Built with high-quality materials and advanced manufacturing techniques, our displays are designed to withstand the rigors of daily use. The scratch-resistant and anti-glare screens ensure optimal visibility and clarity, even in brightly lit environments. Enjoy peace of mind knowing that our displays are built to last, providing you with years of seamless collaboration.